Helsinki pilots a multisensory room in elderly care
The aim is to improve the quality of life for residents with memory disorders and to examine if virtual nature experiences could reduce the need for medication.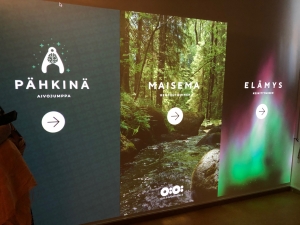 The population in Finland, like in many other countries in Europe, is ageing and the nursing resources are getting scarce. Due to this, there is a strong interest to invest in smart technologies that can support nursing.
The digital and multisensory room pilot in Kustaankartano Comprehensive Service Centre is created in co-operation with Forum Virium (The City of Helsinki innovation company) and the Helsinki Service Centre as part of the Co-created Health and wellbeing (CoHeWe) project. The pilot period is the first half of 2020.
The 20-square-metre-room stimulates senses with a moss wall, tangible nature elements such as birch trees and hay bales, and a virtual technology wall. The wall brings Finnish nature to the room via 16 landscape videos with real sound scenery. In addition, the wall enables memory games and the opportunity to play by creating animations, e.g. painting Northern Lights or flying autumn leaves. The wall is designed by OiOi Collective, a company specialised in smart space solutions.
The room is easy to install, modify and scale. Next addition to the Kustaankartano room is VR glasses.
Could soothing nature experiences reduce the need for medication?
"The results have been very positive and encouraging," says Kustaankartano Comprehensive Service Centre Head Nurse Jaana Pilvinen. "The multisensory room brings residents joy, experiences, recreation, soothing, and sometimes evokes old memories. These are patients who are not always able experience nature in real life. What would be better care for them?"
According to Pilvinen, the room has increased the wellbeing of patients as well as eased the work load of nurses. The room is unique in the Nordics, says she.
Kustaankartano is now piloting if the multisensory room can reduce anxiety caused by memory disorders in the extent that amount medication could be decreased.
The Kustaankartano Comprehensive Service Centre in Helsinki has a track record for pioneering in testing new care technologies and more pilots are being launched during 2020.
Press release in Finnish
Article in Finnish